House Arkko Fact Sheet
The house is designed for our family. It is located in Kauniainen, on a lot of about 950 m2, close to another house of similar (but not same) design. The lot is about 300 m from schools, 400 m from shops, and 500 m from the town center and railway station; train to the city of Helsinki takes a bit over 15 minutes from there. The community swimming pool is about 1 km away, lake is 500 m away, and the ski hill is 2 kms away.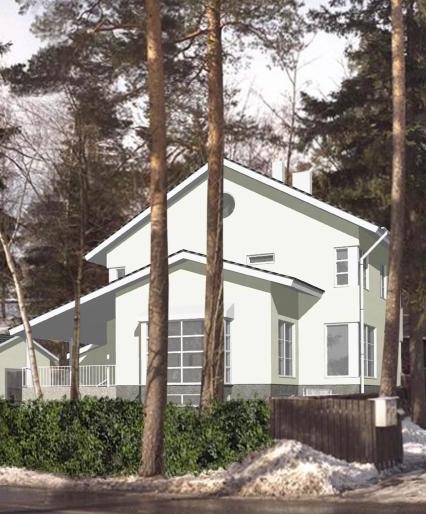 The house has two main floors plus a full-size basement and a cold attic for storage. The warm parts of the house are roughly 480 m2; in addition there are about 120 m2 of various non-heated storage rooms, terraces, and balconies.
There are four main bedrooms, one study room, and one spare bedroom in the basement with small windows. In addition there is a kitchen, a living room with an adjoining dining room, a media room, four washrooms/toilets, a sauna, jacuzzi room, eight storage rooms, two maintenance rooms, a garage, a terrace, and a balcony.
Clearing the site started September 2002 and the hole in the ground for the basement was created in December 2002 -- the latter involved removing some 120 truck loads of rocks that were left as a result of detonating ground rock that is very near the surface on the lot.
Construction started for real in August 2003, when the basement floor was constructed. Between March and May 2004, the main floors and the attic were constructed. Since then, operations have been going on inside to make the wall, ceiling, and floor materials, to mount all technology systems and so on. We moved to the house in July 2005, though it took two more years for the house to be official completed. And there is still some unfinished details, the garden is not complete, and so on.
Most of the work has been done by contractors, but I've done quite a bit myself too. And I have friendly relatives who help!
A number of hi-tech and design features have been built in. These include:
An internal communications network in every room, consisting of about 100 ports, all Gigabit-ethernet class. Three kilometers of Category 6 cable has been installed. This figure shows the network design, and you can read more about the design rationale here.


Multi-homed, redundant Internet connection via separate providers. Employs ADSL2 (24 Mbit/s).


Centralized networking facilities, including private and visitor wireless networks, printer servers, storage servers, IPTV servers, Gigabit Ethernet switches and routers. All devices apart from the switch are Linux-based. Separately located backup storage servers, protected from fire and electromagnetic interference.


Environmental sensor network, including the monitoring of room temperature, equipment temperature, humidity, solar radiation, and wind speed through the building and outside. Includes alarms for exceptional situations through Jabber and a facebook application.
Digital TV, satellite antenna, and radio network in every room, with capability to track four different satellites as well as ground based transmissions.


A fire and burglary alarm system controlled via GSM. The system includes roughly 35 different sensors.


Video surveillance system indoors and outdoors.


Two rooms equipped with sound-proofed DVD projection systems. For instance, the projector for the living room is located behind a glass in the closet of an adjoining room, helping to achieve a quiet environment.


Hidden wiring for a surround sound system in three rooms.


A TV and sound system in the sauna, including a remote IP-based monitor of the jacuzzi area from the sauna.


Token-controlled electronic locks in the main entrance, and radio-controlled garage doors.


An option for an elevator to replace a shaft that is currently used by three storage closets on top of each other.


High-tech self-washing, sun's heat blocking, highly energy-effient and soundproof windows. Built-in blinds in every window.


Sunlight windows placed on the terrace to feed light to areas of the basement that do not otherwise have natural light.


An underground shelter with 55 cm thick concrete walls. Includes a Faraday's cage protection against at least some electromagnetic impulses (not tested), and a separate escape route. Not currently equipped with all air-conditioning mechanisms.


Indirect, eye-friendly lighting system. Over a 100 different lights are included (a set of similar lights in one room are considered as one light for the purposes of this calculation).


Options for five fireplaces. One of the fireplaces is currently installed in the jacuzzi room, and another one will be installed in the living room. In addition there are options to install three other fireplaces in other rooms.


Yellow limestone fence, 1.4 meters high and half a meter thick to protect against street noice and visitors. All stone was imported from Estonia.


An opening from the washroom to the home maintenance room for throwing laundry to the laundry storage.


De-icing system in outdoor stairs.


All floors with stone-based materials are kept comfortably warm for walking without shoes.


Community heat pipes bring heating to the house; the pipes are made to run all the way towards the house in the drive way and on the parking lot, helping to melt slow and ice.


Seven different entrances, including two to the basement, two to the terrace, the main entrance, the garage entrance, and an emergency exit from the underground shelter.


One of the basement rooms has its own entrance and own electricity system, to be used as an independent room by visitors, maids etc.


A separate shaft houses all inter-floor technology, can be opened for maintenance.


All technology (wires, pipes, etc) hidden inside walls and ceilings.


Two rooms reserved for technology, one for power/heat/ventilation, another for communications and servers. Both rooms are protected by fire-proof doors.


A 3x50A eletricity connection (for a house that is not heated with electricity), all equipment upgradable to 3x80A and wires up to 3x125A.


The electrical system includes over 400 sockets, light connections, and switches.
Here are the basic plans for the basement, 1st floor, and 2nd floor.
---
Created April 9th, 2004.
Last modified October 12, 2009 by Jari Arkko

There have been
visitors since December 7, 2004.